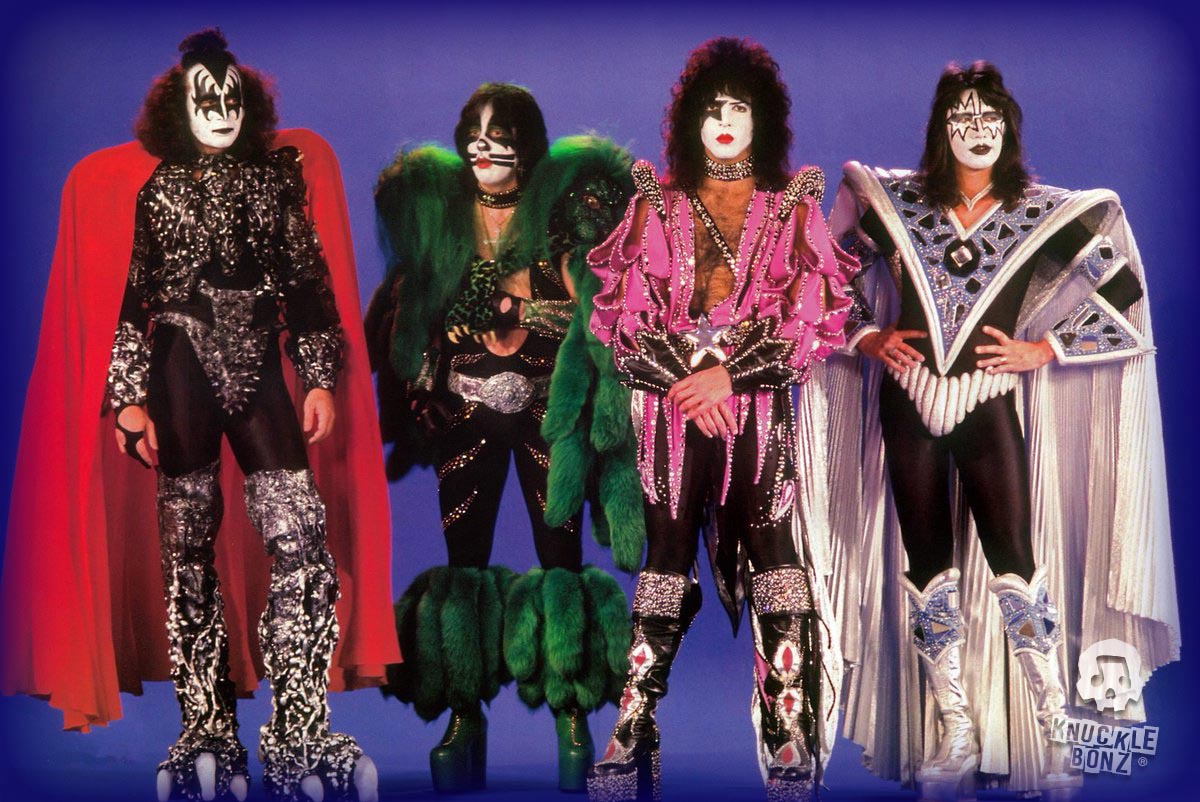 Yesterday marked 42 years since the release of the KISS Dynasty record. While it not apparent to the KISS Army at the time, the original KISS lineup was only a short time away from it's end. Peter Criss did not actually play on the album due to a combination of injuries to his hands from car accident and struggles with substance abuse. Anton Fig was called in to keep time as he had already worked with Ace on some of his solo efforts. The album did have radio success with "I Was Made for Lovin You". It actually peaked at #11 on the US Billboard charts. But, perhaps the most lasting part of the Dynasty era are the amazing costumed. They were more elaborate than ever with Gene, Paul, Ace and Peter dawning capes with signature colors for each member. The KISS predominantly black and silver schemes were replaced by Red for The Demon, Hot Pink for The Starchild, Blue for SpaceAce and Green for The Catman. The photos and videos from this era are amazing.
KnuckleBonz has expended our license with KISS through 2023 with the band and we are hard at work on a new set of Rock Iconz.
Here's a collectors list of the things we have created with KISS: KnuckleBonz and KISS
KISS Alive II Rock Iconz (Gene Simmons, Paul Stanley, Ace Frehley and Peter Criss) * These were essentially the Love Gun costumes w/ some minor tweaks)
KISS Alive 1975 Rock Iconz (Gene Simmons, Paul Stanley, Ace Frehley and Peter Criss) * From the costumes fro that era 1975)
KISS Rock Iconz Hotter Than Hell (Gene Simmons, Paul Stanley, Ace Frehley and Peter Criss) * All 4 band members, Gene is sporting the Skull shirt
KISS Debut Album 3D Vinyl (The band from that famous black cover and the glowing makeup.
KISS Destroyer 3D Vinyl – The most aggressive 3D Vinyl design to date sculpting all 4 characters in the illustrative style of Ken Kelly's famous cover painting.
KISS ON Tour Road Case and Logo Stage Sign – The distressed Road case hold a banner from the Alive photo shoot by Fin Costello and the lighted sign used by the band thru the Alive era.
KISS Rock Iconz 2021 – #staytuned
Rock Hard today!