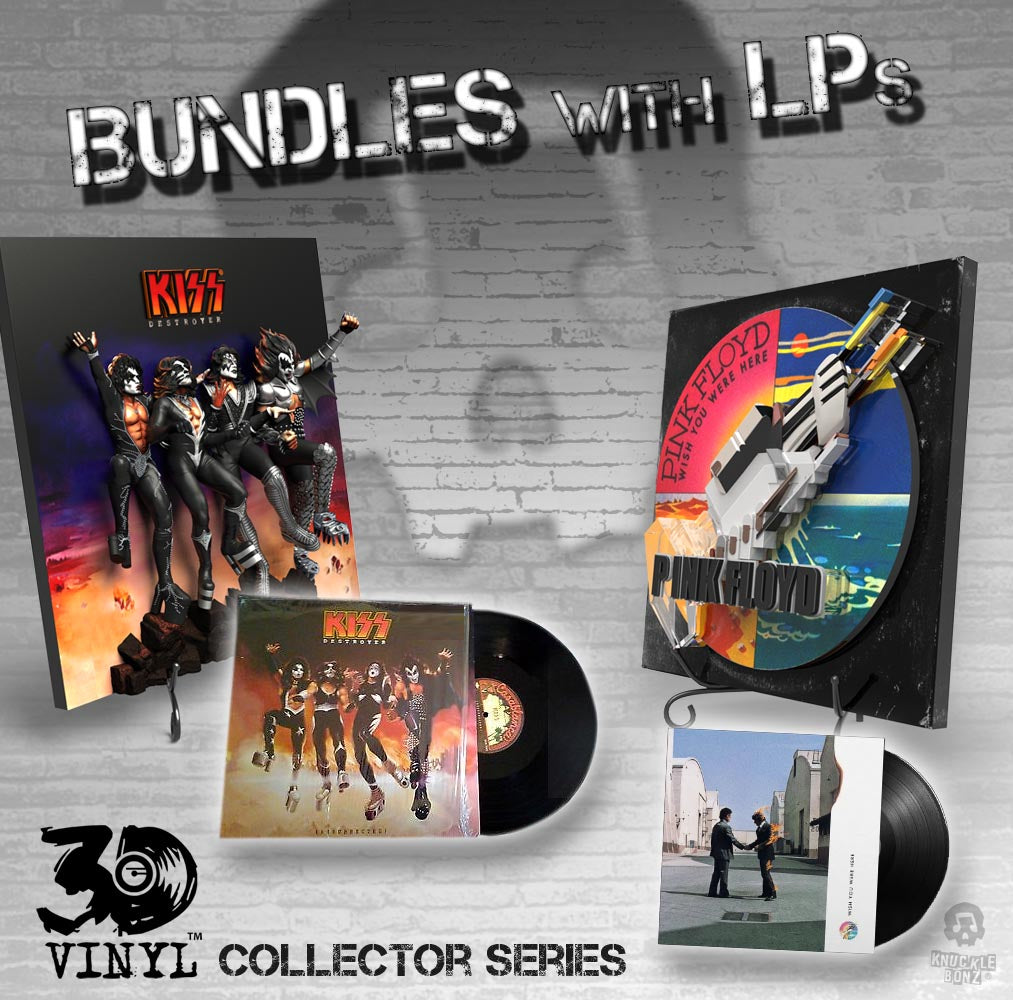 If you have been following along this spring you will have noticed KnuckleBonz® has added the ability to buy your favorite Vinyl LPs at https://knucklebonz.com/product-category/vinyl-records/. It's a select offering to start, focusing on the artists we have created for our Rock Iconz®, 3D Vinyl® and ON Tour™ Collector Series over the past 18 years.
To celebrate this new category at KnuckleBonz.com ,  will  soon be offering special bundles for bands that have been released in our 3D Vinyl Limited Edition Statue Series. The bundles will include the actual Vinyl LP that was the inspiration for our 3D Vinyl statue design. Up first will be KISS Destroyer and Pink Floyd Wish You Were Here…
KISS Destroyer Resurrected was released in 1976, and many KISS fans believe this is the high water mark for the band's studio recordings. This classic KISS album is revisited and resurrected on 180g virgin vinyl by original producer extraordinaire Bob Ezrin. The album also features the amazing painting by the master Ken Kelly of Gene Simmons, Paul Stanley, Ace Frehley and Peter Criss in the amzing stage costumes from this era. "staytuned here and via our email list for details…check out KISS Destroyer 3D Vinyl Here: KISS Destroyer 3D Vinyl Limited Edition Statue
Pink Floyd Wish You Were Here 3D Vinyl will also be offered as a special bundle with this 1975 release. The 3D Vinyl design pulls from the inner sleeve design by Storm Thorgerson of the robotic hand shake. At this point, Pink Floyd is in the vacuum created by the once in a lifetime release of Dark Side of the Moon and all of the success and fame that followed. Wish You Were Here's title track as well as "Shine on You Crazy Diamond" is a tribute to founding member Syd Barrett which by this time is firmly in the grips of mental illness. It also touched on the alienation and disillusionment with the music business experienced by David Gilmour and Rogers Waters via "Have a Cigar" and "Welcome to the Machine." Check out Pink Floyd Wish You Were Here 3D Vinyl Here: Pink Floyd Wish You Were Here 3d Vinyl Limited Edition Statue
Stay tuned for more info about Vinyl of all kinds from KnuckleBonz, Inc.
Rock Hard!