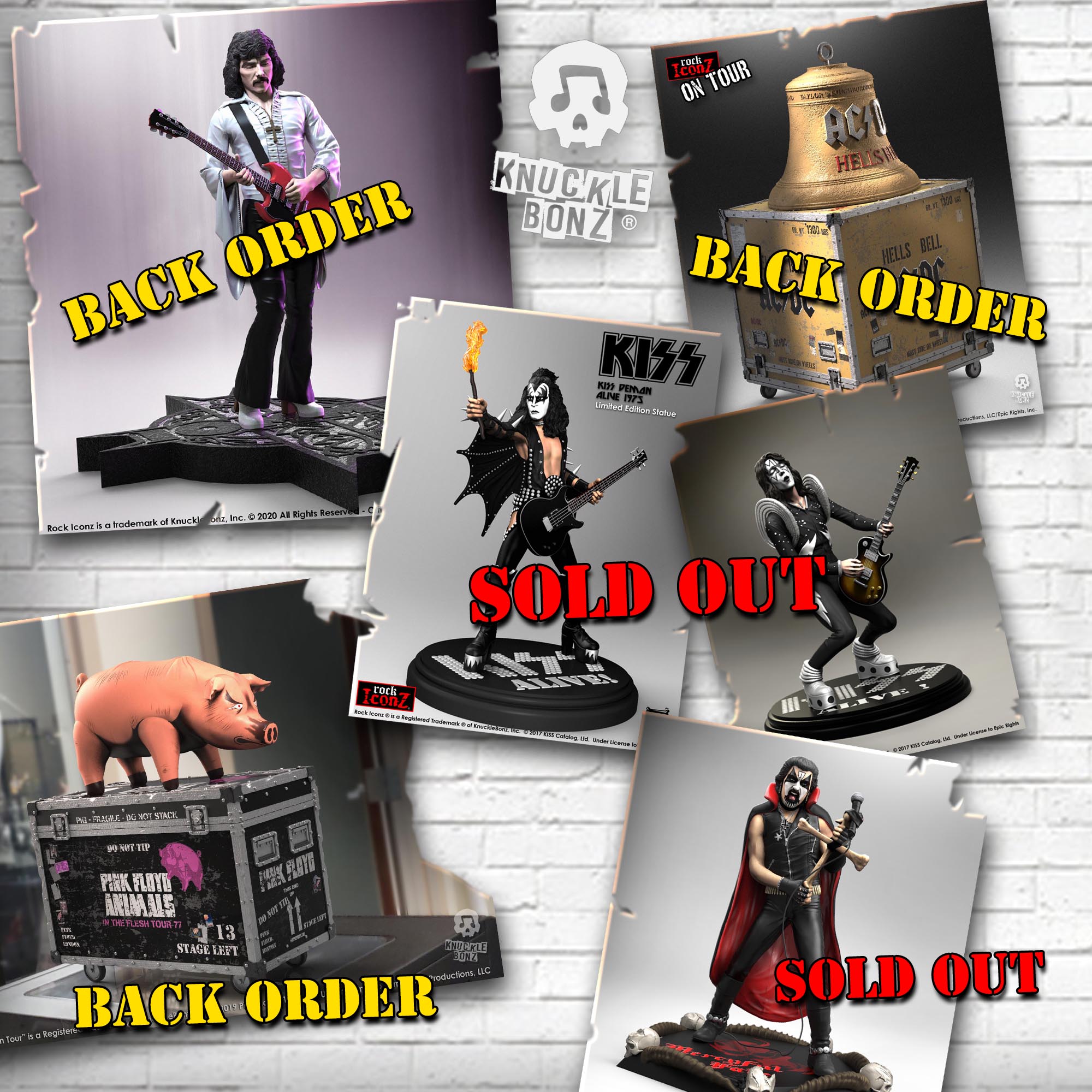 SOLD OUT and and Back Order Blues – KnuckleBonz®
Rock Iconz® continue to be some of the most sought after collectibles in music and entertainment. As you know, all of our products are limited editions. Here's an update on some recent availability…don't miss out of you are a Superfan on any of our bands.
KISS® Alive Rock Iconz "SOLD OUT"– Gene Simmons "The Demon" and Ace Frehley "The Spaceman" are now SOLD OUT. Soon to follow will be the rest of the KISS Alive Set fot Paul Stanley :The Strachild" and Peter Criss "The Catman."
Mercyful Fate King Diamond Rock Iconz – Gone forever is our King Diamond Mercyful Fate Rock Iconz Statue. This was the 2nd working witn KIng Diamond. The original solo era Rock Iconz for King is SOLD OUT as well.
AC/DC Hell's Bell On Tour "Back Order" – The initial production units are now gone and the Hell's Bell is going on back-order. More units are under production and will ship later this year. Don't miss out! https://knucklebonz.com/product/ac-dc-hells-bell-rock-iconz-on-tour-series-collectible/
Pink Floyd "Pig" On Tour "Back Order" – The Rock Iconz "On Tour" Collectible of the Pink Floyd Pig and "Animals" era Road Case has sold -thru the current inventory. You can back-order here https://knucklebonz.com/product-category/pink-floyd/ to make sure you have a chance to own this iconic piece of Pink Floyd legacy.
Tony Iommi of Black Sabbath Rock Iconz "Back Order"– Iommi's Rock Iconz sold thru the last in-stock unit and has gone on back order. This was gone within days of landing the initial production wave. Get in the back-order queue to have any chance of owning this Black Sabbath / Tony Iommi history. Back Order Here – https://knucklebonz.com/product-category/tony-iommi/
"The Show Must Go On ! " and it will next week. Tune in for a "Killer" Rock Iconz announcement.
Rock Hard! Kbonz