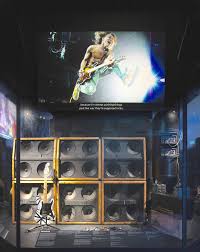 If you were lucky enough to see the original Van Halen lineup of brothers Eddie Van Halen, Alex Van Halen, Michael Anthony and David Lee Roth, you will might will probably remember the dive boming EVH speaker and effect rig, complete wity the "speaker bomb"  looming stage left. I say "might", will get to that in a second. This was the engine for Eddie's early tone and effects. Here's a shot of a faithful replica from The Metropolitan Museum of Art, "The Met", from the EVH "PLay It Loud" Expo.
Visually this says everything about the creator Eddie Van Halen, an amazing edgy esthetic with the WWII era bomb casting that held some of Eddie's effects. All built by the guitar virtuoso and "gadeteer genius" of EVH on basically no $budget, just like the original Frankenstrat guitar also pictured. This rig went out with the band on their first world tour in support of amazing acts like Montrose, Ted Nugent and Black Sabbath. We were lucky to see Van Halen open for Sabbath in Sept 1978 at the Baltimore Civic Center. The stage lighting had heavy spots and the full light rig was not in use for VAn Halen as an opening act, so did not ever really notice the black speaker bomb against the live dark stage backdrop. It was only later we saw it a Creem Magazine photo. All that went to show immediately got into a heated argument about if it was really there at our show and we somehow missed noticing it…ahh the good ole' day.
There was not book that could teach Eddie how to achieve the sounds he had in his head…so he wrote his one.
Rock Hard Today! Kbonz
EVH Speaker Bomb Rig from The Met Museum in NYC